How can you prevent blindness and impact lives of children worldwide through Vitamin Angles?
By Carla Wells
Essential Nutrients. Healthy Children.
Background Information
Vitamin Angels is an international organization that establishes a relationship with infants, and children in need of vitamin A and other essential nutrients. In their efforts to fight blindness, infectious diseases, prevent malnutrition and child mortality, Vitamin Angels seeks to provide the youth of these developing areas with private sector means so that the newborns, infants and children can grow to lead a healthy, productive and meaningful life. Their actions are divided into two programs, Operation 20/20 which strives to decrease the amount of children that have vitamin A deficiencies that cause blindness and Thrive to Five, which provides mothers, and children with the necessary nutrients to maintain a healthy immune system. CEO of gkBRAND, Vasken Kalayjian wishes to help Vitamin Angels obtain a series of corporate sponsors to support this worthy cause.
Recent News & Development
What they have discovered is that the right resources for child and infant development are not accessible to these countries, thus causing young immune systems to fail. One third of all childhood deaths are caused by under-nutrition and over 190 million children suffer from vitamin A deficiency (VAD). This has become an underlying cause of blindness in young children around the world.
VAD affects the immune systems of approximately 40% of the developing world's children, contributing to the death of an estimated 1,000,000 young children every year.
Since the primary mission of Vitamin Angels is to advance availability of micronutrients and vitamin A in order to reduce child mortality and blindness worldwide, they have been working toward a cost effective way to make this happen. The solution is as simple as a vitamin A capsule a child would take every six months.
Supplement will prevent blindness and reduce the mortality rate of children under five by 23%.
In 2008, they reached over 7 million children in 17 countries with vitamin A and anti-parasitics.
In 2009, they were able to connect 62 Million multiple vitamins with children and pregnant & lactating mothers.
Building a Partnership
Their efforts are directly benefiting those in need and simultaneously helping save lives of children all over the world in developing countries. Vitamin Angels has partnered with gkBRAND in order to build new relationships between their organization and other corporate companies, looking for those willing to participate in supporting their world changing efforts and contributions. Vitamin Angels' work is made possible through corporate sponsors, and product donors who also see the importance of solving the issues that lie within global under-nutrition. They believe that by getting involved today you are giving children around the world a tomorrow.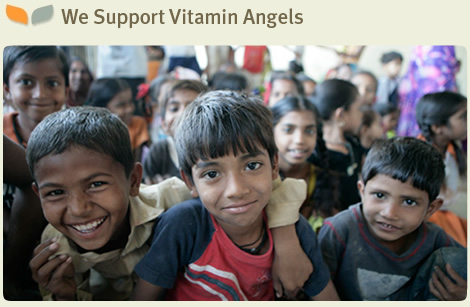 Cause Marketing Opportunities
gkBrand has developed comprehensive sponsorship opportunities that include turnkey integrated marketing, online PR and media blitz package for corporate sponsors. Additional benefits of your promotion consist of publication of your companies relationship with Vitamin Angels on the website and in the newsletter, resulting in the chance to reach a larger audience and help generate recognition of social responsibility for your company. To donate, sponsor or learn more about this program, please contact Vasken Kalayjian at 203.226. 8255 ext. 16 or vkalayjian@gkbrand.com